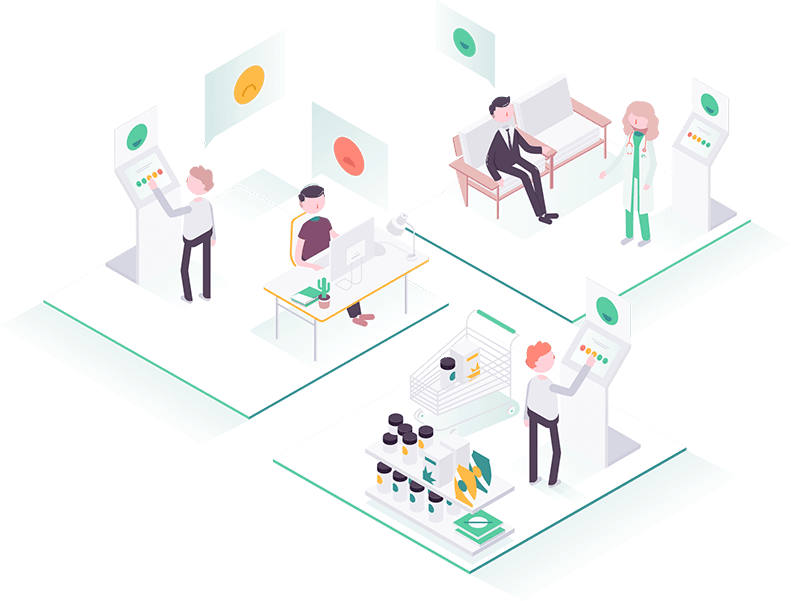 The Benefits of Using a Feedback Terminal
Honest Feedback

Feedback received directly at the point of experience is more honest, reliable, and instant.

Higher Participation Rate

Your customers or employees have no friction points for giving feedback like devices or software.

Pull Instead of Push

An unobtrusive approach to feedback. No frustration with pushy email or app notifications.
Fully customizable
Our terminals are not just robust and reliable. They could also win a beauty-contest.





"Apart from the classic e-mail, this was a fast and easy way to communicate with the customers directly and get their opinions and requests."
- Jörg Dornseifer, REWE
How it works
Place order

Unpack box

Plug in terminal

Analyze feedback. Improve satisfaction and retention.
Features

Corporate Design
Present your corporate identity by defining components like logo, company colors or slogans.

Remote Control
Access and configure the terminal right from your dashboard. Changes are transferred immediately.

Instant Setup
Fully preassembled and set-up, the feedback terminals can be used from day one.

Offline Mode
Collect feedback without internet access. Feedback is saved and sent out as soon as a connection exists.

Integrated Internet
All terminals are equipped with a mobile data connection - no WiFi or local internet connection required.

Automatic Updates
Adjust your surveys at any time. Your terminal will automatically update the data behind the scenes.

Videos & Pictures
Set up teaser videos on your feedback terminal and draw more respondents to your surveys.

Easy Shipping
Our shipping partners deliver the feedback terminals quickly and safely right to your door.

Question Types
Choose from a wide range of question types and use complex functions such as branching.

Power Save Mode
Configure a time for the display to dim, e.g., outside of your opening times. Save electricity.

More Opinions
Placed prominently, a terminal will give you more feedback and your data becomes more representative.

Marketing Channel
Use your terminals to promote products or carry out sweepstakes to create an interactive experience.
Our clients
Join the world's best people first companies
Get
in touch

with us –
we're here to make you successful.