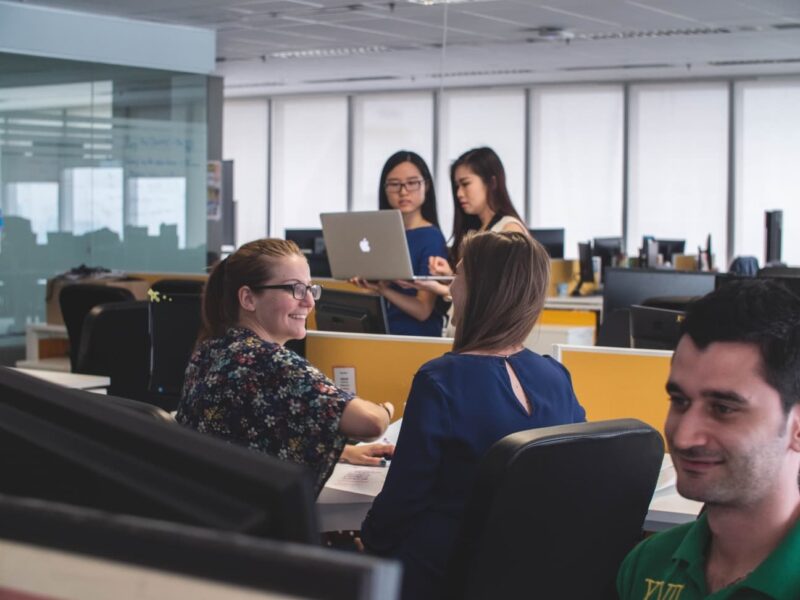 In any community, shared values are what bring people together. They let members know what's right, what's wrong, and what outcomes people should prioritize over others. Shared values keep people moving toward the same goal. In a way, they are the foundation of any relationship–I trust that you will behave in this way because we both believe behaving that way isn't right.
It's true too for workplaces.
While codified corporate values might seem a little cheesy now (remember the "flair" in Office Space?), when used strategically, they are effective signposts to your employees about what your company stands for and its reason for being.
As with any other communication tool, company values are most effective when they're authentic. It's one thing to write your values on a wall, but living those values in your day-to-day interactions, and making tough decisions by sticking to those values is much harder.
Once you write something down, it becomes real. And bringing the abstraction of your company's core values to life can be a double-edged sword. On one hand, everyone in your company can judge the quality of their work against the values you've enshrined. On the other, they also have grounds to challenge management to live up to those values. For instance, if transparency is a company value, be prepared to answer candid questions relating to salary, company spending, and other taboo subjects.
If company values are such a commitment, then why bother? Well, in short: core values fuel productivity, contribute to higher-quality work, and have been instrumental in some of the biggest business successes of all time.
Why are core values important to employees?
Core values are steadily becoming part of a job seeker's evaluation process. If they choose to work with you, they want to know that they'll fit in with the corporate culture. With employer review sites and corporate pages now the norm, there is more information available than ever for job seekers investigating their options. Outlining your company's core values publicly gives job candidates the extra assurance they might need that working with you would be a natural fit for their values.
Once those candidates become employees, your company's core values inform the everyday choices that go into their work. Knowing your company's expectations helps employees prioritize what matters and what really doesn't. Core values also give employees a metric by which they can measure the quality of their output. For example, a product team might create an app with impressive functionality that suffers from unclear navigation. If usability is a company value, then this app–even though it has more technical features–would not be a success. Core values give employees the focus they need to do things the right way.
When a company outlines a set of values, it influences how engaged employees are in their work. One key contributing factor to employee engagement is the feeling of being part of a mission that is bigger than yourself. Core values clarify what your company stands for and how each individual's effort realizes its vision.
Why are core values important to companies?
Refining your company's guiding principles focuses its strategic vision. When a team is faced with multiple choices, referring back to the company's core values can illuminate which path forward is the right one. Since everyone shares the same goals and principles, there is always some common ground where people can agree. Keeping this in mind can help teams avoid or resolve conflicts.
Demonstrating belief in core values at a management level can build trust that has a ripple effect throughout the organization. Seeing a senior employee make a decision that may hurt the bottom line in the short-term, but is in line with the broader values of the company, can inspire the respect of even the most cynical employees.
That respect and trust radiates outward beyond the company. It affects how your company is perceived by the public and whether customers want to do business with you. In an environment where consumers regularly discover that brands they love engage in business practices they don't agree with, a company that lives and stands by its values has a competitive advantage. Your values become your brand.
Case Studies in Core Values
Company values have been at the heart of some of the most-loved brands in business. They reflect a top-down vision for how customers should be treated, how employees should interact with each other, and how employees can be motivated from within. As you read through the values these companies have set for themselves, think about how they are demonstrated in your understanding of them as a customer. It's more than likely you'll see how they contribute to your relationship with their brand.
Netflix
In 2009, the streaming giant published a 124-page slideshow that precisely outlines how they see "Netflix culture".
Their core values:
Judgement

Communication

Impact

Curiosity

Innovation

Courage

Passion

Honesty

Selflessness
Why they were chosen:
Netflix wants to work with a community of people who aren't afraid to speak their mind. Innovation relies on recognizing that the status quo isn't good enough and, in order to innovate, they need people who can see what's not working and suggest better solutions.
When an employee at any level is on the receiving end of feedback, they need to be humble enough to accept criticism and admit mistakes. A company can't innovate if new ideas are only heard and never implemented. By valuing integrity and judgement, employees also know that the feedback they are receiving is in good faith and not for a political end.
Collaboration is a necessity at Netflix. Their values reflect the reality of collaborative and creative work. Working closely with multiple people can be frustrating and slow, so employees must have the judgment to challenge their teammates respectfully, the curiosity to explore all available options, and the passion to see it through.
"We want people to speak the truth, and we say, 'To disagree silently is disloyal. It's not ok to let a decision go through without saying your piece. We're very focused on trying to get to good decisions with a good debate."–Reed Hastings, CEO of Netflix
Zappos
Zappos is an e-commerce giant in shoe retail and clothing retailer based out of Las Vegas, Nevada.
Their Core Values:
Deliver WOW Through Service

Embrace and Drive Change

Create Fun and A Little Weirdness

Be Adventurous, Creative, and Open-Minded

Pursue Growth and Learning

Build Open and Honest Relationships With Communication

Build a Positive Team and Family Spirit

Do More With Less

Be Passionate and Determined

Be Humble
How they were chosen:
Zappos opened in the early days of e-commerce, back in 1999. With an online store long before online shopping was ubiquitous, Zappos needed to be able to deliver quality customer service, and make wary consumers trust buying products on the internet, without face-to-face interactions. When the company moved to Las Vegas, they needed to hire a customer service force quickly. Establishing core values helped speed up the process by giving hiring managers guidelines to work with.
In defining the core values of Zappos, Founder Tony Hsieh looked for common traits among his best-performing employees. He also looked at former employees that hadn't been a good fit for the culture to figure out why they hadn't worked out at Zappos. By elevating values that were already natural to the company's top employees, Zappos knew that these principles weren't just a nice idea–they made a difference in how customers perceived their company.
Extraordinary customer service is crucial to the Zappos brand. In order to deliver next-level customer service, employees have to be empowered to make decisions and get creative. They need to know that they won't be punished for offering too much and they will be praised going beyond to make customers happy. Zappos call center representatives don't read off of a script, so they need to be inventive, open-minded, and friendly enough to keep up a conversation.
"If I could go back and do Zappos all over again I would actually come up with our values from day one."–Tony Hsieh, Founder of Zappos
Starbucks
The international coffeehouse chain explains its core values, that reflect its origins as a small business from Seattle, in the company's Mission Statement.
Their Core Values:
Acting with courage, challenging the status quo.

Being present, connecting with transparency, dignity and respect.

Delivering our very best in all we do, holding ourselves accountable for results.

We are performance driven, through the lens of humanity.

Creating a culture of warmth and belonging, where everyone is welcome.
How they were chosen:
As CEO and Chairman Howard Schultz puts it, "… at Starbucks, I've always said we're not in the coffee business serving people, we're in the people business serving coffee." Starbucks isn't just a place to pick up a cup of hot coffee to get you through the morning. It's a coffeehouse. It's warm, inviting, and encourages you to stick around and get comfortable. Small talk with your local barista is part of the Starbucks experience. Without plush chairs, friendly employees, and the neighbourhood poster board, Starbucks would just be selling coffee.
The philosophy that Starbucks embraces in its mission statement is meant to foster the feeling of community that came with their first storefront in Seattle. It encourages employees to connect with each other and to connect with their customers. Starbucks aims to be a company that has a purpose beyond profits–in their lofty 2008 vision statement, they endeavoured to, "establish Starbucks as the most recognized and respected brand in the world and become a national company with values and guiding principles that employees could be proud of." They don't just want to be a successful company, they want to be a good company.
"It's the humanity of a company that is going to create the long-term value. Without humanity and without values, you end up with a company that perhaps makes money, but doesn't stand for anything and really has nothing to be proud of. So, lead with your heart."–, Howard Schultz, CEO and Chairman of Starbucks
Give your employees the sense of direction and purpose that comes with core values. Most importantly, whatever core values you choose, make sure that they are incorporated into the way you hire, the way you make decisions, and the way that employees are evaluated. Core values require commitment to achieve results.